Language & Literature Spotlight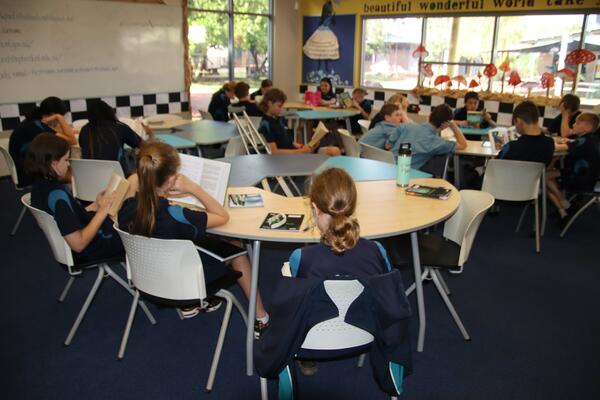 The International Baccalaureate Middle Years Programme (MYP) curriculum framework comprises eight subject groups, providing a broad and balanced education for early adolescents. One of these wonderful subjects is Language and Literature.
Inquiry is at the heart of MYP language learning, and aims to support students' understanding by providing them with opportunities to independently and collaboratively investigate, take action and reflect on their learning.
This outstanding educational course develops skills in six areas. The six skill areas are:
Listening
Speaking
Reading
Writing
Viewing
Presenting
Our Year 6 and 7 Language and Literature students have been engaging with the concepts of perspective and communication in their classes. Units of Inquiry are valuable guides to develop the learning journey of our students. From our Units of Inquiry utilising short stories and poetry, students have delved into the wonderful world of the English language and storytelling.
Alongside the conceptual content, we are also focusing on our spelling and reading skills! At Good Shepherd, we love making learning fun. We are preparing for our renowned Spelling Bee. Students will spend the next seven weeks learning new and challenging vocabulary. They will work together and engage in the event of the term: an obstacle course featuring many active components. The Year 6 and 7 class with the highest accuracy level will win the Spelling Bee Trophy! 
We are also developing our reading skills through a dynamic reading program. The students' teacher will check in with them to increase their confidence and build their vocabulary and love of reading. 
Could we give a student a prize for the most read novel over a semester? Yes, we can - so, let's get reading! 
More information about the International Baccalaureate Middle Years Programme can be found here:  Middle Years Programme (MYP) - International Baccalaureate® (ibo.org)
Mr Paulo Abrantes - Language and Literature Coordinator