Tremendous Middle & Senior School Assembly - Monday 5 June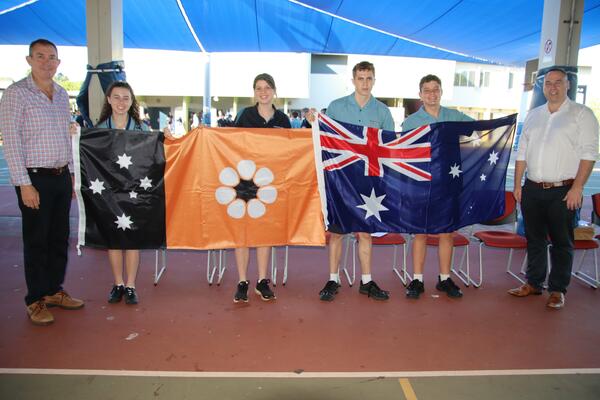 Week 8 of Term 2 commenced with a tremendous Middle / Senior School assembly. Thank you very much to Member for Nelson, Mr Gerard Maley MLA for presenting two new flags for this campus. These will replace the damaged ones, caused by birds tearing and hanging off them all too often! We look forward to displaying the beautiful Australian and NT flags shortly.
Thank you Ms Yvette Clarke for attending the assembly to discuss the 'School of Origin' football match coming up in Term 3 and the 'T 4 Thomas' campaign. Funds raised from the football match between Good Shepherd and Taminmin College will go to the Sepsis Foundation. https://www.australiansepsisnetwork.net.au/
https://www.tforthomas.com/ T for Thomas
Well done to the recent Athletics Carnival Age Champions and Runners-up who received their trophies and medals today! We learnt that there were only 5 points between the winning House, Hughes and Strauss. A reminder to participate in all events to keep those House points coming in.
More photos here: Facebook